Welcome to the Age of History Wiki!
Age of History (AoH for short), and formerly Age of Civilizations is a series of mobile turn-based strategy games (The second game is also on Steam and his website) by a Polish game developer called Łukasz Jakowski. He is currently working on AoC 2 which is now available on PC and Mobile. This wiki is unaffiliated with AoH or Łukasz Jakowski Games and was created when the wiki's founder, SteampunkMaverick12 first edited on September 2, 2017.
Latest activity
[
]
Photos and videos are a great way to add visuals to your wiki. Find videos about your topic by exploring Fandom's Video Library.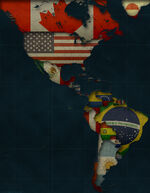 uk:Age of Civilizations вікі