6
Civilizations are a gameplay mechanic in Age of History 2. Civilizations are able to manage their own Population, Economy and Technology levels. Civilizations are either controlled by artificial intelligence or a player. When one picks a scenario, they will be able to see all the civilizations in that scenario by scrolling and moving the field of view. They will also be able to see the total Population level, the Economy (Industry) total, the average Happiness level, the capital and what percentage of other nationalities are in their population.
General
[
]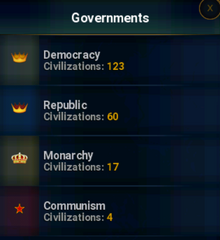 Civilizations can be 7 types of Governments, these are:
Not every scenario includes all of these types of governments, an example is the Modern World scenario, which only contains 123 democracies, 60 republics, 17 monarchies, and 4 communist countries.
List of All Civilizations (WIP)
[
]
There are a total of 1,874 total civilizations in the whole game.
Civilizations
Country Name
Tag
Aachen
aac
Abbasid
abba
Abenaki
aben
Abkhazia
abk
Abkhazia (Monarchy)
abk_m
Abyssinia
eth_m
Acadia
aca
Aceh
aceh
Achaea
achh
Achaemenid Empire
acaa
Acre
acre
Adachi
adah
Adal
adal
Aden
aden
Adiabene
adi
Adjara
ajar
Adygea
adyg
Aesti
aes
Afar
afar
Afghanistan
afg
Afghanistan (Monarchy)
afg_m
African Union
afri
Afsharid Dynasty
afsh
Age of Civilizations
aoc
Ahom
aho
Ainu
ainu
Ajuran
ajur
Akamatsu
akam
Aksum
aksu
Aksum
akss
Al-Andalus
andd
Alabama
alab
Alagoas
alag
Aland
ala
Alania
alan
Alaska
alas
Alawite State
alaw
Alba Longa
alba
Albania
alb
Albania
albc
Albania
alb2
Alba
abb
Alemanni
alem
Alencon
alen
Algeria
alg
Algiers
algi
Almohad Caliphate
almo
Almoravid
almm
Alodia
alod
Alsace
als
Altai
atla
Amago
clam
Amalfi
amal
Amapá
amap
Amazonas
amzz
American Samoa
ams
Anazzah
anaz
Ancient Egypt
egyc
Andalusia
anda
Andhra
andh
Andorra (Democracy)
and
Andorra
and_m
Ando
cldd
Angles
angl
Anglo-Egyptian Sudan
aneg
Anglo-Saxons
anxx
Angola
ang
Anguilla
all
Anhalt
anh
Anhui
ahh
Anjouan
anjo
Anjou
anju
Ankole
ank
Ansbach
ans
Antaisaka
anss
Antarctica
anta
Antemoro
ante
Antes
antt
Antigua and Barbuda
aib
Antillean Confederation
anti
Antioch
ani
Apache
apa
Aq Qoyunlu
aqq
Aquileia
aqu
Aquitane
ant
Arab Islamic Republic
abbr
Arabia
arab
Aragon
arag
Arakan
arak
Arapaho
arap
Arawak
arw
Ardabil
adrr
Ardalan
arda
Ardalan
ard
Argentina
arg
Argentine Confederation
arg2
Arizona
ariz
Arjunayanas
arq
Arkansas
arka
Armagnac
arga
Armenia
arm
Armenia (Communist)
arm_c
Armenia (Kingdom of)
arm_m
Arminiya
amyy
Arrernte
Arstotzka
arzt
Artsakh
arts
Aruba
aru
Arverni
aver
Asakura
asak
Ascension Island
asc
Ashanti Empire
asha
Ashikaga
clas
Assiniboine
assi
Assyria
assy
Astrakhan
astra
Asturias
astu
Athabaskan
atha
Athens
athe
Atrebatia
atre
Atropatene
atro
Augsburg
aug
Aussa
auss
Australia
aus_m
Australia-Hungary
auhh
Austria
atr
Austria-Hungary
auhu
Austrian Empire
atr_m
Austrian Netherlands
neta
Austria
atr2
Austroslovakia
aslr
Auvergne
auvg
Ava
ava
Avar Khaganate
avar
Avaria
avv
Avignon
awi
Aydin
ayd
Aymara
aym
Ayutthaya
ayut
Ayyubids
ayuu
Ay
ay
Azawad
azaw
Azerbaijan
aze
Azerbaijan (Communist)
aze_c
Azores
azor
Aztec Empire
azte
Babylon
baby
Bactria
bac
Baden
bade
Baekje
baky
Bagelkhand
bage
Baglana
bga
Bagratid Armenia
baar
Bahamas
bau
Bahia
bahh
Bahmani
bahm
Bahrain
baj
Baiyue
bayi
Balhae
balh
Baltic Empire
plsr
Baluchistan
balu
Bamberg
bamb
Bandiaterra
band
Bangladesh
ban
Banten Sultanate
bant
Bara
baq
Barbados
bab
Barcelona
barc
Bar
bar
Barghawata
barh
Bashkiria
bash
Basque Country
basq
Bastar
bass
Batavian Republic
batv
Bavandids
bav
Bavaria
bava
Ba
baas
Beihan
beih
Beijing
bej
Beja
beja
Belarus
ber
Belgian Congo
conb
Belgium (Democracy)
bel
Belgium
bel_m
Belize
bei
Beloozero
belo
Benelux
bene
Benevento
benv
Bengal
beng
Benin
ben
Benin
benn
Beothuk
beth
Berg
berg
Bermuda
brr
Bernicia
berr
Berry
berry
Betsimisaraka
bets
Bhutan (Democracy)
bhu
Bhutan
bhu_m
Biafra
biaa
Bitlis
bit
Bjarmia
bjar
Blackfoot
blfo
Blemmyes
blem
Bohemia
bohe
Bohtan
boh
Bolivia
bol
Bonaire
bon
Bonoman
bono
Bophuthatswana
boph
Bornu
born
Bosnia and Herzegovina
bah
Bosnia
bosk
Bosporus
bor
Botswana
bot
Bougainville
bugo
Bourbonnais
burb
Brabant
brab
Brandenburg-Prussia
prus2
Brandenburg
baa
Brazil
bra
Bremen
bre
Brigantes
brig
British Cameroons
camb
British Hong Kong
honb
British Ikea
ikea
British Malaya
max
British Raj
brra
British Somaliland
somb
British-Swedish Empire
brsw
Brittany
brit
Brunei
bru
Brunei (Monarchy)
bru_m
Brunswick-Lüneburg
brun
Brunswick
bn
Buenos Aires
bues
Buganda
bug
Buha
buha
Bukhara
kbu
Bukidnon
buki
Bukovina
bukd
Bulgaria
bul
Bulgaria
buls
Bulgaria (Monarchy)
bul_m
Bulungan
buly
Bundelkhand
bunh
Bunyoro
buny
Burgundians
brq
Burgundy
burg
Burkina Faso
bur
Burundi
buu
Burundi (Monarchy)
buu_m
Buryatia
bury
Busoga
bus
Butua
batu
Butuan
bttu
Buyeo
buyy
Byelorussia
ber_c
Byeonhan
bohh
Byzantine Empire
byza
Byzantine Empire (Monarchy)
byza_m
Cabinda
cabb
Caddo
cadd
Cahokia
chah
Cai
cai
Cajamarca
caja
Calchaqui
calh
California
cali
Cambodia
cab_m
Cameroon
cam
Canada
can
Candar
cann
Candia
veca
Cantabria
cant
Cao Wei
weid
Cao
cao
Cape Verde
cap
Cape of Good Hope
caq
Cappadocia
capa
Cara
cq
Carib
cr
Carinthia
cari
Carniola
cii
Carthage
carr
Cascadia
cas
Castille (Crown of)
cast
Castille (Kingdom of)
casi
Castilla-La Mancha
manc
Catalonia
cat
Catuvellauni
cavv
Cayman Islands
cay
Ceará
ceaa
Cebu
cebu
Central African Republic
car
Ceuta
ceut
Ceylon
cey
Chachapoya
ch
Chad
cha
Chagatai
cgg
Chalukyas
chal
Champagne
szam
Champasak
cham
Champa
chpp
Chanda
chnd
Chandela
chan
Changshan
ccc
Charca
chhh
Charrua
char
Chavda
chav
Chechnya
chec
Chen
chen
Chen (state)
chh
Chera
chee
Chernigov
cher
Cherokee
cheo
Cherusci
cheu
Cheyenne
chey
Chiba
clch
Chickasaw
chic
Chile
chl
Chimor
chim
China
chi
China (Communist)
chi_c
China (Republic of)
qin_f
Chinese Soviet Republic
chss
Chinook
chin
Choctaw
choc
Chokwe
chok
Chola
chol
Chongqing
ych
Chosokabe
chos
Chukchi
chuc
Chutu
chut
Chuvashia
chuv
Chu
chus
Cilica
caii
Circassia
cir
Cirebon
cire
Cisalpine Republic
cisi
Ciskei
ciss
Cisplatina
cisp
Cisplatina
cis
Clanricarde
clan
Cleves
cle
Cochin
koch