Terrain is an important influence in warface, economy and population.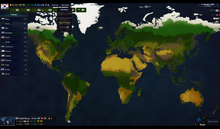 Types of Terrain
Edit
There are 13 types of terrain:
Hills
Drylands
Desert
Forest
Jungle
Marsh
Mountains
Plains
Steppes
Savanna
Tundra
Taiga
Semidesert
Influence
Edit
Terrain's influences can be negative, positive or null. Its influence include:
Military upkeep
Defense
Economy growth
Population growth
Build cost
Movement cost
Development
Terrain is based on true biomes of Earth, that makes this game more realistic and amazing.
Table of Terrain's Influence
Edit
Military Upkeep
Defense Bonus
E. Growth
P. Growth
Build Cost
Mov.t

Cost

Development
Hills
+4%
+3%
+4%
+2%
Drylands
-1%
Desert
Forest
+4%
+2%
+2%
+2%
Jungle
Marsh
Mountains
+5%
+5%
+5%
+4%
Plains
-5%
-2%
+4%
+2%
-5%
Steppes
Savanna
Tundra
Taiga
Semidesert
Wasteland
Edit
Wasteland is an abandoned territory, where none civilization is able to colonize or expand into.
Community content is available under
CC-BY-SA
unless otherwise noted.